Book Excerpts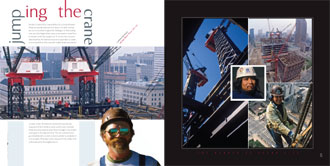 Cleveland Inside Outside features the personal photographic journey of Jennie Jones from 1981–2011.
There are no "chapters" in the book.
There are three main dividing clusters which represent major projects:
• Key Center
• Tower City Center
• Gateway
The fourth and fifth clusters show images from University Circle, the cultural, medical and educational heart of the city, and the Cuyahoga Valley area known as the Flats.
The remaining images scattered throughout the book are favorites from assignments, places, or sights.